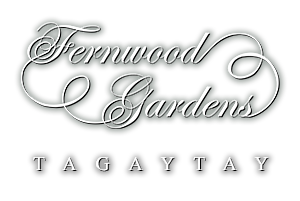 The new grand royal garden of the south has arrived.
Fernwood Gardens Tagaytay is the new paradigm in luxurious weddings and events venue and reception in the Philippines today.
Fernwood Gardens Tagaytay is a unique weddings and events venue that presents sophistication in a garden atmosphere. Create Dream Weddings under the perfect atmosphere enriched with fresh soothing flora. Fernwood Gardens Tagaytay is embraced with a cool climate and thick vegetation highlighted by coconut and fruit bearing trees.
Experience natural beauty and breathtaking scenery as Fernwood Gardens Tagaytay is nestled within a 5 hectare property near a spectacular ridge above Taal Lake. Fernwood Gardens Tagaytay is just about a ten minute drive from the popular tourist destination of Tagaytay.
Established by the same visionary that produced Fernwood Gardens Quezon City and Fernbrook Gardens Alabang, Mr. Al de Veyra has put his years of experience designing world-class garden settings to a spectacular new Fernwood Gardens Tagaytay events venue.
The total events venue brings excellent food and service, with staff that give every Bride and Groom individual attention to make their dream wedding become a reality.
The experience is unique and only discovered here at Fernwood Gardens Tagaytay.
Fernwood Gardens Tagaytay is the place to make magical memories that will last a lifetime.